Read about the latest FysioMeter news, developments and relevant research

Martin Jørgensen
CEO FysioMeter ApS
Sports Physiologist, Ph.D
Senior Scientist at Aalborg University Hospital
19.05.2021

Recovery time after an injury in professional football

The most common question for a pro football player following an injury is "when can I return?"

Estimating when a pro football player can return to training or match can be of great value for both management and the player, as a more precise rehabilitation plan can be designed.

Based on a 16 year-long study of almost 23.000 injuries on 116 teams in the European Football Association, researchers have mapped the average day's players were absent from training and matches. With such robust data, medical staff can now provide a more accurate and science-based answer when a player can return to the pitch.

The study also showed that the most common injury is in the hamstring muscle, followed by groin adductor pain and injury in the lateral ligaments of the ankle. Such injuries can result in absence from 2 to 3 weeks and have a re-injury rate ranging from 13.7% to 17.7%. Surprisingly, the recovery time was even longer for re-injuries, which points out the importance of not returning to the pitch before fully recovered again.

At FysioMeter, we work hard to develop equipment that can reduce the risk of injury and optimizing performance in athletes. Therefore, we made this simplified table of the results from the study, which you can print for free and use to estimate your players' recovery time.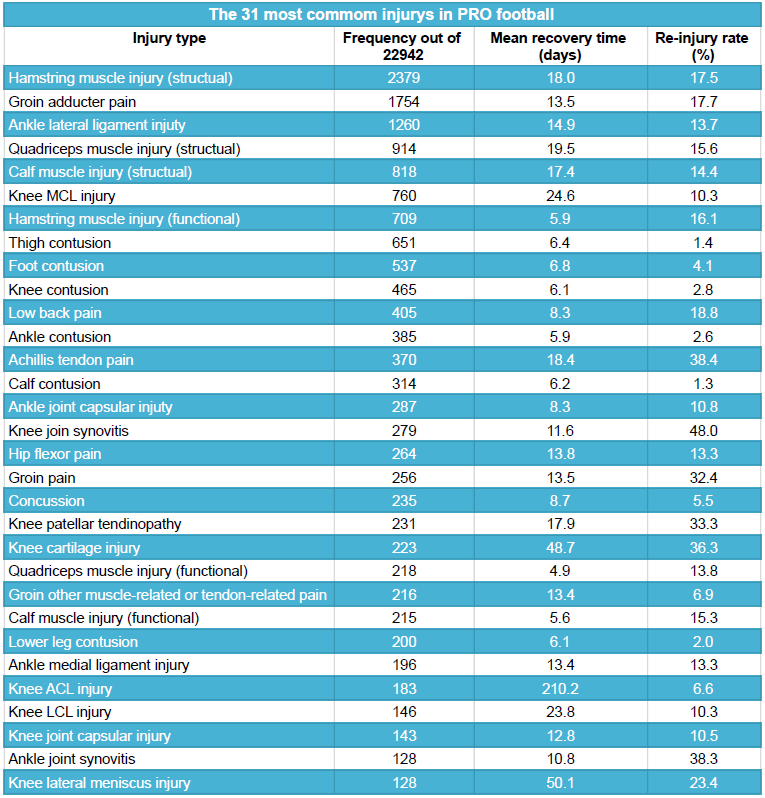 Adapted from Ekstrand J, et al. British Journal of Sports Medicine 2020;54:421–426
The results are based on professional football players who received the best care and were diagnosed quickly after the injury occurred, which is why this is a helpful tool specifically in the football industry where these circumstances can be provided.
If you are interested in reading the entire article, you can find it by clicking on this link.
For more information contact FysioMeter at info@fysiometer.dk
Back